Tonight, is the beginning of the end of NCIS: Los Angeles when the series' two-part finale begins airing, and in tribute to the 14 years it entertained its fans, Parade spoke to Daniela Ruah, who plays Special Agent Kensi Blye, for a look back at some of the most memorable moments she spent on set with Chris O'Donnell (G. Callen), LL COOL J (Sam Hanna), and Eric Christian Olsen (Marty Deeks).
No. 1: What was the most difficult scene or stunt that you had to do?
I will tell you right off the bat that stunts for me I never consider difficult. They're all challenging but they are the most welcome challenge. One of my top three favorite things to do on the show was always the stunts, the fights, and just hanging out with the stunt community on set. I would never associate the word difficult with any of that.
What I will associate difficult to was when I was pregnant in Season 5 with my son and in Season 8 with my daughter. I had no problem working pregnant, but then we had to accommodate my belly in multiple cases. So, in Season 5, I had to go to Afghanistan, and I was lying on my stomach with my sniper rifle trying to get the bad guy. We had to dig a hole in the ground to accommodate my belly. Even then it was not super comfortable to be laying in that position. I would say that that was probably the more challenging thing, even though we also laugh about it today.
The other one was having to lie under the helicopter in Season 8 when I was pregnant with my daughter and play dead and wear all those layers of clothing to hide my belly — and it was hot. These are not complaints, it's just because you're asking what was difficult. Those were kind of challenging moments.
We had to dig out the middle of the mattress in the hospital room when I was in a coma. We had to dig out the part where the butt was, so that my butt could sink down and my stomach wouldn't protrude as much. I think it was also challenging from a prop standpoint and wardrobe standpoint. But all super fun and nothing but positive memories from all of that.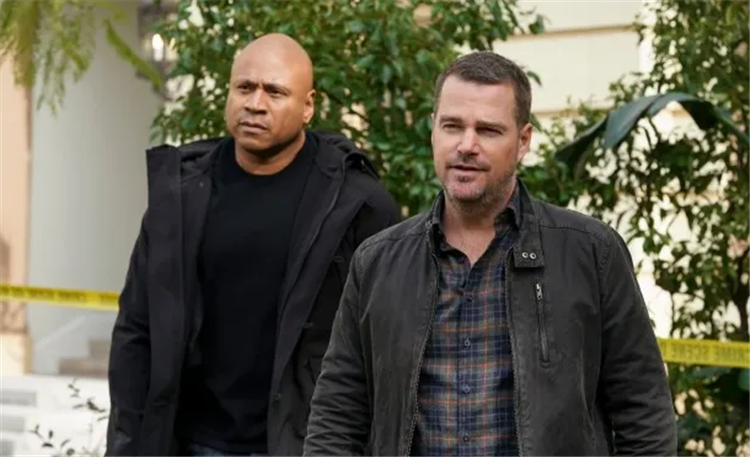 No. 2: What was a funny moment, something where you couldn't stop laughing and had to do retakes as a result.
I've got to be honest with you. The things where that truly happened are not things that I can say publicly because they're so personal to some people and they're funny because they're personal to specific humans on our set.
But what I'll say is we had a lot of those moments. Eric and I, obviously, worked together a lot. Eric is quite a wonderful improviser. We knew each other so well that he was able to say things when it was my coverage, and he was off camera that he knew would get particular reactions from me that would be conducive to the scene. Yeah, Eric's improvs always were hard for me not to break character and laugh about everything.
I will tell you there was one wonderful moment – it wasn't funny – in one of these last episodes. We were doing that scene where everything's about Rosa (Natalia Del Riego) and work and we don't have time for us. We're kind of losing our relationship. At the end of the episode, he gives me flowers and he buys tickets for the concert I've been wanting to see so we're going to go out on a date night.
Eric improvised a line that broke me in the scene, but not laughing. It broke me into tears. Because we already knew the show was over, and everybody was happy and sad all rolled into one. And so, in his improv, which stayed in the cut I believe – not my reaction to it but his improv stayed in the cut, he says, "This feels like ten years ago." I just broke down into tears because I was like, "Oh, my God it does. It does feel like when these characters were in the process of falling in love." Yeah, that broke me. But it was happy tears. They kept the cameras rolling and I composed myself and we continued on with the scene. I gave him a big hug in that moment, and I was like, "Dude, it's the end of an era."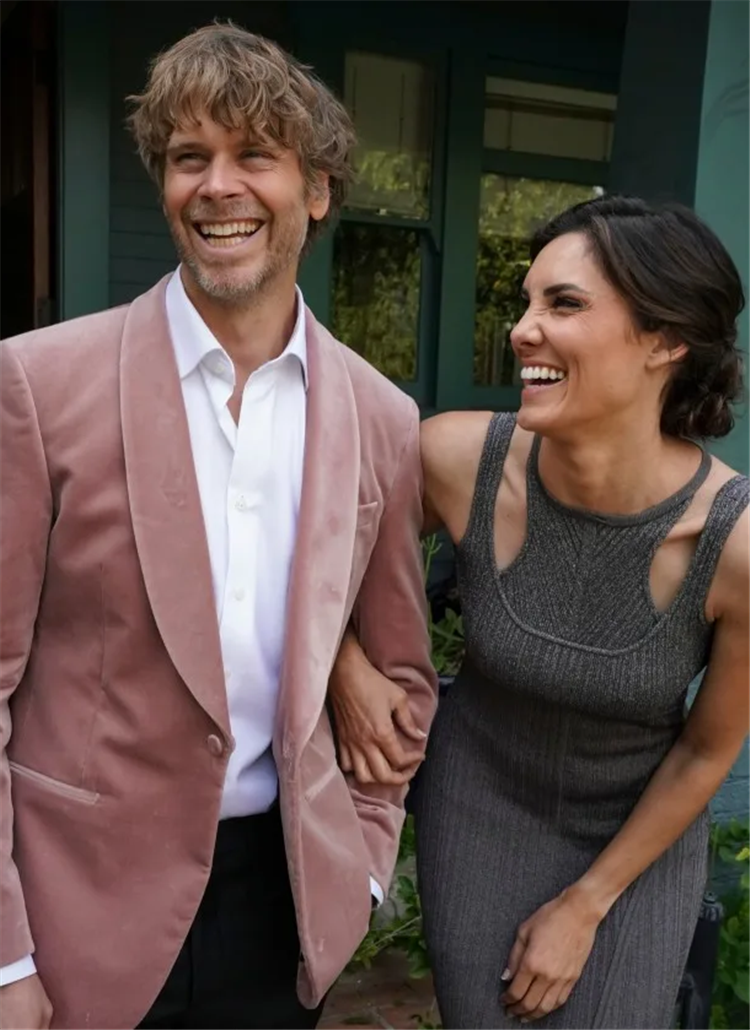 No. 3: What is your favorite romantic moment?
There's two. They revolve around the same thing. The first one was when Deeks proposes to Kensi when she's in a coma. I had to lie there with my eyes closed in a coma, but, of course, I could listen to everything Eric was saying as Deeks. It was hard. I had tears rolling down my face and it was like, "I can't do that, I'm supposed to be in a coma." So, I could hear his really good performance and I just thought it was so romantic that she may never wake up but you're still going to put it out there that you want to spend the rest of your life with her.
And then the second most romantic moment was, basically, when Kensi takes the reins of the situation, and she uses a flash bomb ring to propose to Deeks after a case is solved. She's like, "Hey, man, can I borrow your flash bomb?" Whatever it's called, I'm sorry, it's probably not flash bomb. I throw it in there, it blows up and then I get down on one knee basically. He's so taken aback and he's like, "I'm supposed to do it." Hey, welcome to whatever it was, 2019. Those two moments, to me, were the most romantic.
No. 4: Favorite Kensi storyline?
I would say Syria. Because it was such a challenge as an actor. Not to keep bringing up the pregnancy over and over again, but because I was pregnant with my daughter, they wrote this whole storyline where I was in Syria and the helicopter gets shot down, and Kensi gets caught underneath it. She ends up being paralyzed from the waist down with the potential for recovery, so the psychological and physical recovery that I got to play as an actor was extremely challenging.
I researched at the time as much as I could the journey that people go through. The isolation that she decided to put herself in in not wanting to relate to the rest of the team, which, of course, logistically also made sense because we shot all of my scenes before the season officially started, if you will. I had to go off on maternity leave because by the time season 8 started, I was seven or eight months pregnant at that time. So, I was getting ready to pop so they had to shoot me out as soon as possible.
And we didn't know how those scenes were going to get cut into all the other episodes that hadn't been written yet. So, it was such an interesting journey of trying to create something cohesive without really knowing where it was going to land in the timing of the show. That was my favorite storyline, for sure.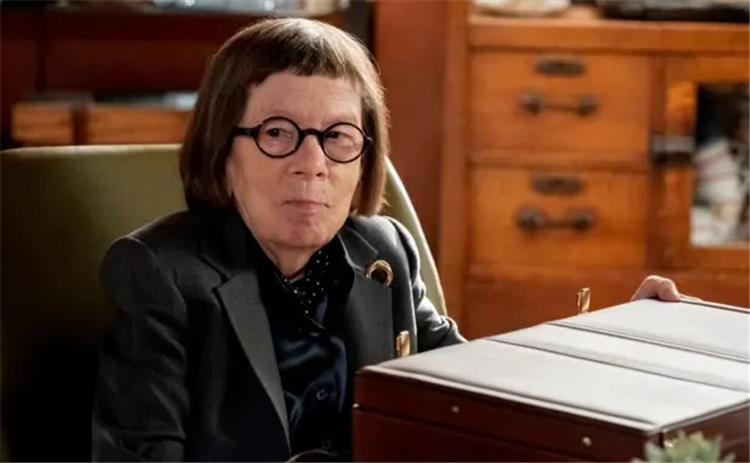 No. 5: Favorite Hetty witticism?
I had to research this one because there's been so many good ones that I had to scroll the internet and then I found one that I was like, "Oh, yeah I forgot about this one," and it's brilliant. Which is, "I don't move pieces, Mr. Callen, I move the board." I was like, "Yup, that is Hetty in a nutshell," and it's just such a clever line.
No. 6: Favorite guest star moment?
I have to preface this. I can't pick one specific moment. I have to preface this by saying that we had a roster of guest stars, day players, episodic players, or recurring guest stars, such as Vyto Ruginis, who plays Arkady, or Pamela Reed, who plays Mama Deeks, or Erik Palladino, who plays Sabatino, or Mercedes Mason, who played Talia Del Campo. Or, of course, Bar Paly, who plays Ana.
I don't have a favorite moment because I could never single out one of these people. They made the show what it was. Yes, you had your regular cast and the people that the audience is most used to, but there is no doubt that these people kept coming back for a reason, and that is because they are brilliant actors, because they created a space that was needed for them to be a part of. They brought humor, they brought drama.
I'm so enamored by the guest stars that we've had. Especially the recurring ones. We've become real friends. I actually just hung out with Erik Palladino the other day; I was hanging out with Vyto. Mercedes Mason and I don't live too far away from each other, and we hung out. It's real friendships.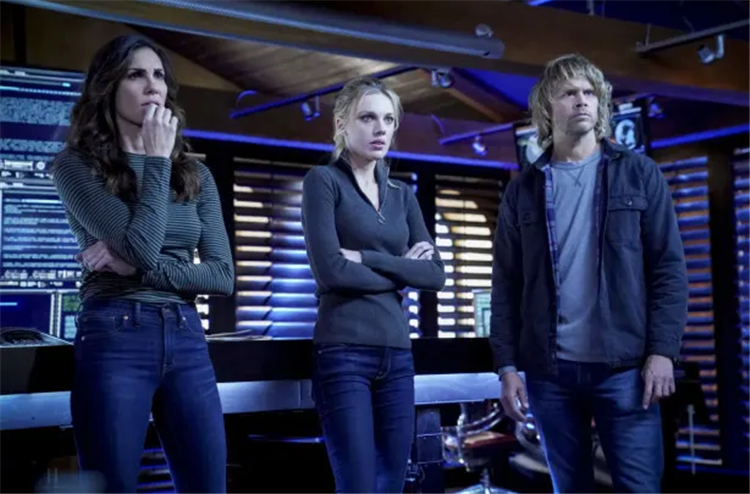 No. 7: Your favorite NCIS: LA teaching moment?
This is a very, very interesting thing because our show, I find, was very good at keeping up with important themes. We explored Asian American hate crimes; we explored Black Lives Matter when Rountree [Caleb Castille] was a victim of police brutality. We have the representation of a Muslim character in a really positive light in Fatima [Medalion Rahimi]. We explored the theme of  how dangerous AI can be by simulating someone's voice and likeness in the episode where it seems like Callen is speaking to us on Facetime but he's not. Or Sam thinks that I'm on his earwig telling him where to go and really, it's the bad guy using my voice, guiding him into a booby-trapped room. So, there's all sorts of interesting causes that the show tapped into, and I'm so glad that we did.
But, I think, maybe the most important journey for Kensi in this particular case, and that is also a representation of millions of people out there in addition to the causes that I mentioned just prior, was her infertility journey. I learned a lot about it. I have very close friends who have been through it, and I spoke to one particular friend, who was actually going through it at the time that we were shooting this storyline. She's one of my best friends and she was very open with me about her emotional journey, her physical journey, how she felt. That really informed how I played all those things. So, I think the teaching or learning moments for me was definitely this infertility journey and how painful it is for couples. Whether it's a mom-dad or mom-mom or dad-dad, it doesn't matter. It's so hard to go through that.
NCIS: Los Angeles' two-part series finale will be spread over two Sundays with part one of the "New Beginnings" episode airing tonight in its usual 10 p.m. ET/PT timeslot. Then, on May 21, the series wraps up with "New Beginnings, Part 2." Part two will air at 9 p.m. ET/PT to make room in the schedule for the special Salute to NCIS: Los Angeles at 10 p.m. ET/PT. Both will also be available to stream live and on demand on Paramount+.