Sister Wives
Fans rally around Janelle Brown after heartbreaking, tearful video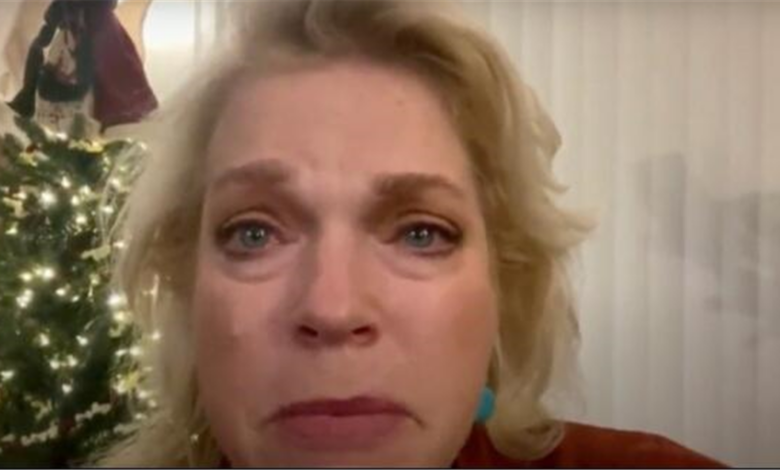 On Sunday, Sept. 10, the latest episode of "Sister Wives" aired and in it, we see Janelle Brown in tears over her split with Kody Brown. Not because she loves him or is heartbroken, but because she's broke and feels trapped.
"I'm stuck. Financially I have nothing. Christine had the house, I have nothing," Janelle said through tears in a self-recorded confessional. "My name is on property with everybody else, probably nobody will cooperate now and play ball. I can't believe I'm 50 and can't do my own thing 'cause I'm so tied up with them financially… I can't believe I got myself into this position. How dumb is that? I know better."
That scene was especially triggering for fans of the show who jumped to Janelle's aid on social media praising her for choosing her children and leaving Kody finally.
Janelle has worked her a** off for that a**hole and their family. He pretends to talk about a patriarchy and him being the big man but has lived off women supporting the family for the most part. He's a bum and I hope him and Robyn get kicked off the show #SisterWives

— Mandy💕 (@Mandy_Loves_RHs) September 11, 2023
#SisterWivesTLC #SisterWives I'm loving Janelle this season. Now that she has kind of stepped back and looking at the overall picture she is seeing things she's never seen before and she's realizing the truth. Hindsight is always 20/20.

— Kim_Possible (@KimIam777) September 11, 2023
My heart breaks for Janelle. Robyn has lived a lavish lifestyle with Janelle, Meri and Christine's money! Shame on Kody and Robyn! @TLC we are over those 2, cancel #SisterWives. Time for a new show!

— Patriot (@NJPatriot___88) September 11, 2023
Janelle's money she earned is tied up all right. In Robyn's huge house! And the tens of thousands of dollars worth of artwork on Robyn's walls! What exactly does Robyn do for a living that contributes financially to the family? #SisterWives

— Old Hag (@tooancient4this) September 11, 2023
Janelle, YOUR money is hanging on Robyn's walls in that ugly artwork. Get a lawyer STAT. #sisterwives

— ariano (@ArianoEstearia) September 11, 2023
Janelle should sue Cody because she was the breadwinner. She deserves a piece of that pie. Maybe they could sell that mansion that's too big for them and split the profit and call it even. #SisterWives

— ❌Bravo, ❌Coffee & ❌politics ❌Please #TRUMPWASRIGHT (@coffee_brat_USA) September 11, 2023
The scene fans saw was the beginning of the end for the couple who have been married for more than 20 years. Janelle and Kody split up following the argument.
"I don't know who this guy is. Maybe this is who he always was, but I don't recognize this very mean person," she said on the show. "I know what he said to me. I know what he yelled at me in the car the other day, 'Choose your loyalties or you won't have a husband.' I feel like he's just looking for ways to get rid of me. I don't know if this is fixable."
"Sister Wives" airs Sundays at 10 p.m. ET on TLC.